---
Why One Call Can Decide a Game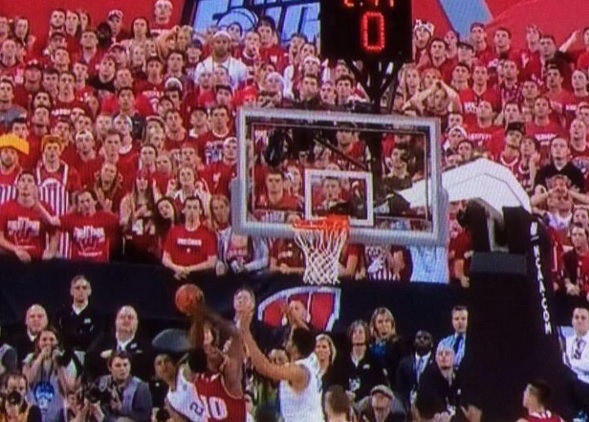 07

Apr 2015

You know that old saying "One call does not decide a game." Well, folks, that's a bunch of baloney because during the Final Four there were two calls that dramatically changed the game. Let me first preface that refereeing at any level is tremendously hard. I know I will never experience the pressure of refereeing a National Championship and as the players get bigger and faster, the job will become more difficult.  However, the two plays I am talking about really do not merit any excuse from the refs. Let's start with the second semifinal game between Wisconsin and Kentucky.

The Clock Struck Zero
As one can see from the picture above, it is clearly evident Nigel Hayes of Wisconsin still had the ball in his hands as the shot clock showed zero. This basket tied the game at 60 with 2:41 to go. Unfortunately, the refs could not review this play since it was outside of two minutes. Besides the fact that the review rules need some amending, this call changed the end of the game. Kentucky went from up two to complaining to the refs which compromised their next possession. After Andrew Harrison missed a shot, Wisconsin's Sam Dekker knocked down a three. Now, in hindsight, even if Hayes' shot had not been allowed, the Badgers would theoretically still be up one after Dekker's shot. But, instead you have a frazzled Kentucky team angry over a missed call and that 3-point lead feels like a 5-point deficit. If you can review whether a shot is a 2 or 3-pointer at any time of the game, why can't we review whether the shot clock was expired before or after a player has the ball in his hands?
Just a Finger
The second play I call in question played out in last night's championship game between Wisconsin and Duke. With less than two minutes left in the game and Duke up 5, a scramble for the ball ensued under the Badgers hoop and it appeared Duke forward, Justise Winslow, touched it last even though the refs called it Duke's way. Luckily, or at least we thought, the refs could review the call. CBS did a great job showing a ton of different angles where it was pretty clear Winslow touched the ball last. Even CBS broadcaster Jim Nantz was a little incensed about the call. When the referee came over to the TV table you could hear Nantz saying "you didn't see it?" and according to the referee "they could not see it." I'm sorry but that is horrendous.  You're refereeing the National Championship game and you could not get a good enough view? Why not ask to see another TV feed? I've watched numerous games where the referees have asked the network broadcasting the game if they could look at their replays. This was poor management at its finest. So with under two minutes in the game and Duke up 5, Tyus Jones went down the court and drained a 3-pointer which also happened to be the dagger for Wisconsin. If the right call had been made, Wisconsin could have cut the lead to 3 or 2 with at least another possession to be had.
I want coaches to stop telling the fans and media that "one call does not decide a game" because sometimes it actually does. I suppose the Badgers received some weird Karma since they saw both sides of these calls. If you're going to make me wait five minutes to review a call, please try to be more consistent.
Loved the article? Hated it? Let me know: @Michael_A_Fine